REVIEW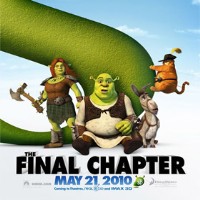 Here comes the ogre again. Only this time, it could be his last. Shrek: Forever After will be released in US movie theaters this coming May 21, 2010 while those in the UK will need to wait until July 9, 2010 to watch the film.
This final installment sees our favorite ogre longing for a time when he felt like a "real ogre." Pretty soon, sneaky Rumpelstiltskin gets the best of him and dupes him into signing a pact. Shrek find himself in a Far Far Away where ogres are hunted, Rumpelstiltskin is king and Fiona is not in his life. It's up to our green hero to undo what he has done.
Like in the previous three Shrek films, this movie will also be based on fairy tale themes and all the cast will be returning to reprise their roles.



For this final chapter, Shrek is feeling bored with his life. He finds himself signing pitchforks when before he used to growl and scare villagers away. Unfortunately, the sly Rumpelstiltskin picks up on Shrek's "blues" and tricks him into signing a pact in exchange for taking one day out of his life. Rumpelstiltskin, however, takes the day when Shrek was born. Thus, Shrek finds himself in a world where he does not exist, where ogres are extinct, Donkey fears him, Puss in Boots is fat and lazy and Fiona is a hunting ogre that cannot stand Shrek.



Essentially, Shrek needs to get a kiss from his "True Love" so he can break the spell. But of course, Rumpelstiltskin won't take that sitting down.
May 21, 2010 will definitely be a special date for many Shrek die-hards.
Genre: Adventure, Comedy, Animation
Director: Mike Mitchell
Cast: Mike Myers, Eddie Murphy, Cameron Diaz, Antonio Banderas,  Walt Dohrn
Writers: Tim Sullivan, Darren Lemke, Josh Klausner

Related Links:
Shrek Forever After on Wikipedia
Shrek Forever After on IMDB
Shrek Forever After Official Website
*To download this trailer from apple.com website, click on the link above. After the page loads, click on the white down arrow next to "Watch Trailer" and click on the resolution of video you want to download. The website will open Quick Time Player on your computer. Once the file is loaded, you can go to File-> Save As to save it to your hard drive.
Written by Valerie
Published on April 13, 2010