REVIEW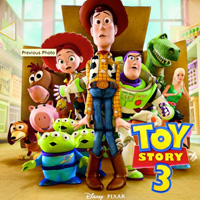 The creators of the beloved "Toy Story" films re—open the toy box and bring moviegoers back to the delightful world of Woody, Buzz and our favorite gang of toy characters in TOY STORY 3.
Woody and Buzz had accepted that their owner Andy would grow up someday, but what happens when that day arrives? In the third installment, Andy is preparing to depart for college, leaving his loyal toys troubled about their uncertain future.
Lee Unkrich (co—director of "Toy Story 2" and "Finding Nemo") directs this highly anticipated film, and Michael Arndt, the Academy Award®—winning screenwriter of "Little Miss Sunshine," brings his unique talents and comedic sensibilities to the proceedings.
From Press Release
Genre: Family, Comedy
Director: Lee Unkrich
Cast: Tom Hanks, Tim Allen, Joan Cusack, John Ratzenberger, Wallace Shawn
More Toy Story 3 trailers and teasers are available on Disney or Apple.com/trailers websites – for some reason Disney chose not to allow embedding on most of the versions I've seen out there…

sorry.
*To download this trailer from apple.com website, click on the link above. After the page loads, click on the white down arrow next to "Watch Trailer" and click on the resolution of video you want to download. The website will open Quick Time Player on your computer. Once the file is loaded, you can go to File-> Save As to save it to your hard drive.
Written by Kademlia
Published on April 20, 2010