REVIEW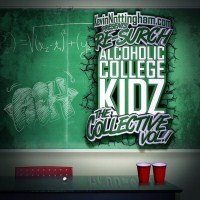 Re-Surch first broke through the hip hop scene with his first album Alcoholic College Kidz back in 2007. His latest mixtape is a compilation of 20 tracks done in collaboration with Kevin Nottingham and One Three Music.
All 20 tracks exude just feel good hip hop music that you can play in your favorite lounge area. Taking no consideration for current hip hop stereotypes, the tracks are perfect for those who just want to relax and have a great time.
Re-Surch, John McGee in real life; has actually worked for Howard Stern as an intern in his show. Of course, his interning skills weren't the only thing that was noticed in the show, his songwriting skills has lead him to pen a track for Stern's comedian co-host Artie Lange. The track was included in Lange's DVD entitled, "Jack and Coke."
Thanks to the exposure he got from the show, Re-Surch was able to further his music career. He has performed for over 5000 fans in Hard Rock Vegas as Lange's opening act as well as plenty of sold-out shows and festivals.
Meanwhile, Alcoholic College Kidz The Collective Vol. 1 sees the emcee collaborating with other talented rappers like Singapore Kane in "Mic in my Hand."
Currently, he's working on his second album, "Raised In The Ghetto, Went To School In The Burbs" which will still be produced under One Three and ACK Ent. The artist is also said to be a part of new reality show that's set to finding the "Next 9 Generals of Wu-Tang," though not much information has been released about the show just yet.
Related Links:
Re-Surch Official Website
Re-Surch on Kevin Nottingham.com
Re-Surch on Datpiff
Re-Surch Interview
Written by Valerie
Published on October 4, 2010