REVIEW
The House Judiciary Committee scheduled a hearing on SOPA for November 16, 2011. The hearing today showed that both the sponsors and the supporters the bill have little understanding of the under workings of Internet Industry & little respect of the free speech principal that all Americans cherish so dearly. The opposition of this bill in Congress is not as active as it's necessary for it to fail and the chance of this bill passing is still very much so real.
Watch the videos below, read the articles and contact your representatives to voice your opinion. Passing of those bills is going to be the first cornerstone for open censorship in United States and quite possibly, around the world.
Go to AmericanCenshorship.org, learn more and contact your representative through an easy online form.
The below is from the AmericanCensorship.org and gives you just the major bullet points about the proposed legislation:
Website Blocking
The government can order service providers to block websites for infringing links posted by any users.
Risk of Jail for Ordinary Users
It becomes a felony with a potential 5 year sentence to stream a copyrighted work that would cost more than $2,500 to license, even if you are a totally noncommercial user, e.g. singing a pop song on Facebook.
Chaos for the Internet
Thousands of sites that are legal under the DMCA would face new legal threats. People trying to keep the internet more secure wouldn't be able to rely on the integrity of the DNS system.
This Bill is an Emergency for the Internet

1. Watch these videos

2. Read these articles
House takes Senate's bad Internet censorship bill, tries making it worse
Protect The Internet
SOPA: Hollywood Finally Gets A Chance to Break the Internet
SOPA on OpenCongress
PIPA on OpenCongress
3. Check this infographic out: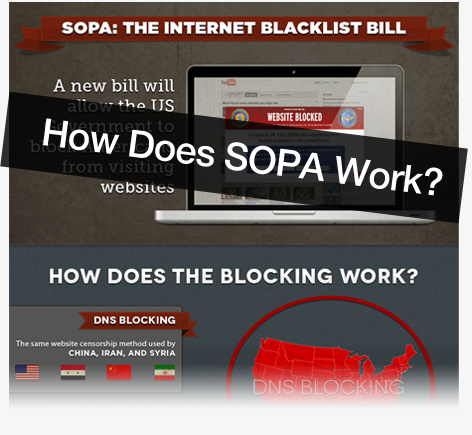 Related Links:
American Censorship's Website
FightForFuture's Website
Electronic Frontier Foundation's Website
Free Software Foundation's Website
Public Knowledge's Website
Demand Progress's Website
Participatory Politics Foundation's Website
Creative Commons's Website
Mozilla's Website
Written by Kademlia
Published on November 16, 2011