REVIEW
Bubble Mania is a game for kids, the young at heart and anyone who wants some fun. Created by Team Lava, it is a bubble puzzle adventure game. Players hurl bubbles in the air and match them up with bubbles of a similar color.
To move on you have to clear the screen and release the creatures trapped inside the bubbles. Anyone who's played bubble puzzle games will feel right at home here. Even if you haven't played any color matching games before, it won't be long before you get accustomed to the gameplay.
The game has colorful graphics, perfect for this kind of setting. The graphics are on the "cute" side, but it doesn't distract from the action. When you release a trapped creature in a bubble, they'll yell "hooray!" adding a nice touch.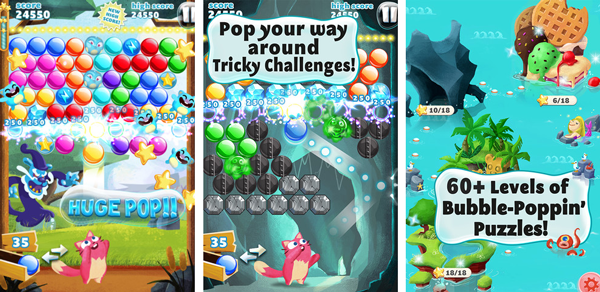 While some characters look cute, this isn't a simple game. After the training level, Bubble Mania gets harder. In fact there are many areas in the game that are very challenging. This doesn't mean the levels are impossible to finish; they are just hard.
Bubble Mania has more than sixty levels of puzzles, so expect to play the game for a while. Bubble Mania has a couple of control methods; just choose which is best. After that, it is just a matter of matching the bubbles to make them explode.
The concept is basic, but the game is quite addictive. Those who grew up playing this stuff will find a lot here to like. For players who have never played this type of game before, it serves as an introduction.

Related Links:
Download Bubble Mania
Bubble Mania on Facebook
Written by Mel
Published on September 22, 2012