REVIEW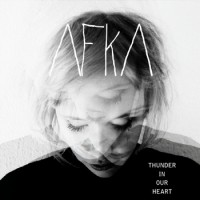 Divulging raw emotions, Thunder in Our Heart by AFKA illuminates darkness that stirs within our cores. The Rotterdam-based band tweaks the idea of sonic satisfaction as its eccentric tunes and spellbinding arrangement reminds us of the great Björk and Enya.
Started in early 2011, AFKA is Aafke Kloppenburg (vocals), Adrian DiTamorra (guitar), and Marcial Garcia (guitar and SPD).

The five-track collection opens with To Follow, a three and a half minute song that blends layered electro tunes with tribal beats. Aafke's powerful yet magestic voice shines through as it delivers a spine-chilling experience.
Hopping to a more vintage approach, Far Away showcases a radio-ish intro slowly travelling to a spacey atmosphere of reverberating and howling backdrops.
Title track Thunder in Our Heart follows with a perfect blend of electro and classical musics. Close your eyes and let this track transport you to psychedelic soundscapes.
The Young Ones ft. Andy Smart succeeds in embodying the perfect contrast of hip-hop and ambient music. Closing up the album is King, a pure acoustic serenade of ligh-hearted strings and saccharine vocals.
Seldom can you find an album that aces on both arrangement and vocals. In Thunder in Our Heart, AFKA have stretched and maximized the band's talent as each song presents a different genre while maintaining the band's distinct sonic brand. This is really a great and unique album, it's something you'd want to listen on repeat.
Related Links:
AFKA on Facebook
AFKA on SoundCloud
AFKA's Press Room
Written by Mona
Published on September 29, 2012