Promote Your Content
Great Free Content meets Great Free Promotion
Are you a professional content creator ready to take over the world with the help of FrostClick.com and FrostWire's massive (and worldwide) P2P community? If so, you are exactly what we are looking for … well as long as you got that magical something that will make us fall in love.
Does the promotion cost anything?
No. It is absolutely free to you!
What can be promoted?
We love-love-love quality music. So if you have some mind-blowing tracks you would like to share, we are all ears. Although we focus on sounds, any great and quality content including video, photography, games, eBooks, software, etc. will be considered/could be promoted.
What are the rules?
You must own the rights to the content
All content must be legal to share with others (and licensed under Creative Commons or similar license)
All content must be free
All content must be clean (there's a lot of kids in the community!)
Only Professional Quality content will be accepted
Any additional music submission rules?
Just a few. Here are some things we will need from you.
At least one professionally produced album (with at least 5 songs)
Your music has to be available online for us to review it (Website, BandCamp, Jamendo, Archive.org, etc.)
A high resolution image of your album cover
Some quality promotional photographs/graphics we could use
A simple text document with your bio and album info
A Twitter account, Facebook Page or Group, etc. to help with the promotion efforts
Anything that can put you ahead of the game?
Yes. We always try to help those who take their work seriously and do it with passion. Any of the following make for a great bonus:
Lyrics and/or guitar tabs; your fans will love you more for this
The more EPs or Albums you've produced the better
You have one or more music videos available online
You've been or you are performing on tour
You've won contests or awards
You have performed with a famous artist
You've been covered by a respectable publication (magazine, newspaper, blog, TV show)
There's a Wikipedia entry about you or your work
You've already distributed your music via BitTorrent
You've been covered by a respectable publication (magazine, newspaper, blog, tv show)
Submitting your content won't guarantee that you'll be promoted
Given the great amount of submissions we are currently receiving, only a fraction of them will make it to the FrostWire welcome screen. Nevertheless, we will do our best to at least review your content on FrostClick.com.
If your post on FrostClick gets an extreme amount of attention we might reconsider your submission and turn it into a full blown promo at a later time.
So what happens if we fall in love with your work?
You'll be on the FrostWire Welcome screen for at least 3 days. If your download numbers will continue to skyrocket, you'll get to stay for longer. If the community is not feeling you, we'll take you out. However, once your content has been seeded on tens of thousands of computers, it will remain available on the BitTorrent network (millions of users) for keyword based search and will live long after the promotion is over.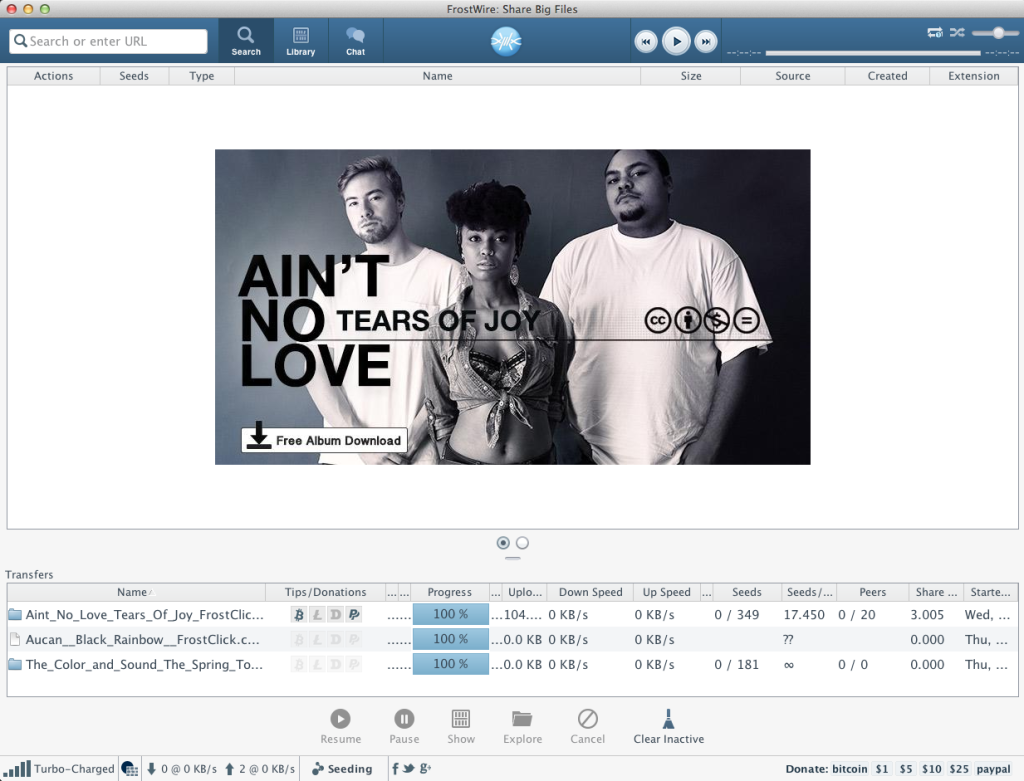 How to get in touch with us?
If you feel that you meet all of the requirements above (or if you would simply like to have your album reviewed on the site), contact Natalie at natalie @ frostwire dot com. Make sure to include the following:
Your full name (in addition to the artistic name you might be going by)
The title and kind of content you would like to promote
Web link to the content itself and any other information, videos, reviews, etc. that would help us make the decision
If we don't see the proper information in the email, or we find that you don't meet the requirements, you will not be considered for the promotion (and you might not even get a response :p).
Remember promotion is Free, as in "Free Beer" – all you need is great content and the enthusiasm to share your work.
Here is what some of our featured artists are saying:
"It was BY FAR the most valuable promotion I've ever done for my music career. I've done over 50 online marketing endeavors for my music, and none compare to the exposure I've gained through Frostwire."
"Because of Frostwire I've accumulated over 100,000 facebook and twitter followers. During my frostwire campaign, my website has received over 100,000 pageviews. I am also showing up #1 on Google because of Frostwire and the CC website linking to my domain."- Kellee Maize
"The folks over at FrostWire/FrostClick are extremely professional and have been such a pleasure to work with! I went into this experience not quite knowing what to expect and came out beyond thrilled at not only the level of visibility that Fan Fair received, but also at the sheer number of downloads it was able to garner in such a short period of time. I think that the promotion for Fan Fair, as well as being able to be a part of their mixtape has been very valuable; and this collaborative partnership is something that I both value, and would love to continue developing." – Baiyu
"The promotion FrostWire provided helped tremendously from the standpoint of an independent artist. My goal with this project was to put it in front of as many people as possible and the methods used by FrostWire helped me nearly double my download goal." – Kenton Dunson
"The FW promo helped us a great deal with spreading the word on our album, and we did see a bump in sales following the promotion […] There is a big debate online about artists giving away their music for free and the protection of intellectual property. My view going into the FW promo, was that by us choosing to give our album away for free – we were going to draw in a huge number of listeners who wouldn't otherwise have the chance to hear us – putting the music and the listener first. Given how much money people spend trying to reach people – this seemed a no brainer. As opportunities have developed to monetize through youtube and Spotify, the FW promo provides us a platform to introduce our music to the masses, and then allow them to continue to engage our content online through other mediums." – BJ Block and Dawn Pemberton
"Working with Frostclick/Frostwire has been an overall amazing experience. I never anticipated the kind of feedback we've received from music fans all over the world and it was a great decision to leave our record in the hands of the great people at Frostclick. The promotion that is being offered to indie artists through Frostclick is so unique and we feel really lucky to have worked with them." – Ryan Egan, The Ugly Club