Big Win Baseball for Android
Big Win Baseball for iOS
If you have been hunting for a unique baseball game, look no further than Big Win Baseball, a simulation / strategy game where your goal is to put together the strongest team possible and beat the competition.
You start by creating a team; this is going to be unique and you have full control over the composition. Once you've assembled the group, you can play against other teams. Like a team manager, you get to see how well (or how bad) the team plays.
If things are not working out, you can make adjustments. Players' skills in pitching, fielding and hitting can be improved.
The more you play and win, the more you earn. This gives you the opportunity to get card packs and level up. Some of the card packs you can get are Error Free, No Walks, He's Out and the Wheelhouse. There are many others as well.
Once you get these impact cards, the effect will be apparent quickly. In many ways, it's just like a real baseball game; upgrade the roster, and see the improved results! The packs are Gold, Silver and Bronze. Each has skill sets, players and other features that will enhance your team.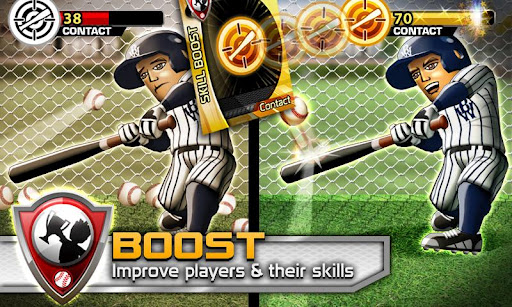 When it comes to strategy games, the interface is crucial. Fortunately the game looks clean. Big Win Baseball strikes a nice balance between customization and avoiding stats overload.
Having too many numbers can ruin the game for a new player, but this is avoided. Big Win Baseball can be played on the iPhone, iPod Touch and iPad. It also has integration for Facebook.

Related Links:
Big Win Baseball on Facebook
Big Win Baseball on Google Play
Big Win Baseball on iTunes