REVIEW
iBooth is a fun little app from App Street Software Private Limited. It's like having a virtual photo booth with you. There are lots of similar apps, but this one is free. Unlike a traditional photo booth, this one also comes with a chock full of effects.
iBooth is superior to photo booths in every way. You can can snap pictures anytime you want. There are 36 effects included, so you'll be spending a lot of time experimenting. The filters vary greatly, among the most popular being the twirl, fish eye and sketch.
iBooth allows you to flag your favorite effects and have easy access to them later on. This is a real time saver because there are a lot of special effects you can try out. You can turn images into sepia, gray-scale or give it a pop art appearance. You can even apply a cool x-ray like effect. Some effects like dent, bulge, and squeeze are similar to those in expensive photo editing software.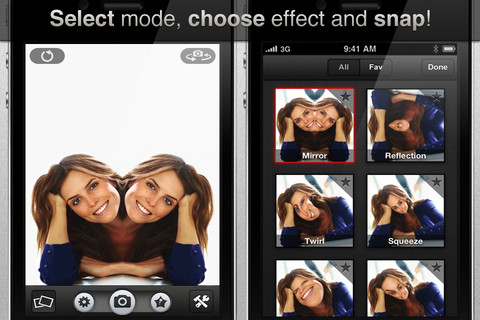 It's worth pointing out that iBooth can snap high res photos so every detail is captured. The Photo Strip mode is used for making cool picture strips. This feature is customizable. It allows you to modify the time and slots. Once you've built up a large number of photos, use the gallery to view and edit them. Your favorite pictures can be shared in Twitter, Flickr and Facebook. You can also send them out via email. This is certainly more convenient than a typical photo booth.
iBooth is compatible with the iPad, iPod touch (4th generation), iPod touch (3rd generation), iPhone 4S, iPhone 4 and iPhone 3GS.

Related Links:
iBooth for iPhone
iBooth for iPad
iBooth Official Website
Written by Mel
Published on September 29, 2012